Page 2 of 2 •

1, 2

Last edited by Mish on Sun Oct 16, 2016 6:03 pm; edited 1 time in total

_________________
If I could change the world . . . .
What a great venue this was!  Plenty of seating, plenty of room up by the stage, and a HUGE stage for the boys to cavort on.  It was also easy to get to, with two great hotels within yards of the venue's front door. The lobby meet and greet area was roomy and didn't feel at all crowded . 
And the boys packed the place!  It is a 2400-seat venue, and it looked like 3/4 of the main floor was full, along with almost half the balcony.  It seemed like the band was really pleased with the size of the crowd.  It was one of the biggest indoor crowds I had seen in quite some time.
And now a favor:  I'm asking all of you who were there to take a minute to email the Embassy at:
info@fwembassytheatre.org
or go to their Facebook page at: 
www.facebook.com/fwembassytheatre/?fref=ts
and tell them how much you enjoyed seeing HCTM there.  I'm hoping that if a lot of people write to them, they will bring HCTM back again next year.  Without feedback from us, these venues don't always know what a great time we had.  
Thanks!

_________________
If I could change the world . . . .
@Mish

wrote:The Usual Suspects.

Srta, Phunky, and TDW didn't show up in time for the photo shoot.  

 
Nice!



Posts

: 1307


Join date

: 2015-10-06


Age

: 56


Location

: Lemoyne, PA



What an awesome show! My legs are still sore, and I slept in until 1pm today...
#Whoops
Everyone was fantastic, including Mummy Highlander, whom Ive never heard play before! Cass seemed like he had a lot more energy than usual-- He was bouncing all over the place, and even came out to the meet and greet for a little bit!
It was so awesome seeing and meeting so many of you last night! My body is sore but my soul is feeling refreshed, rejuvinated, and absolutely funky. Ive been in such a good mood all day! I absolutely cant wait for the next one!



Posts

: 242


Join date

: 2016-01-16


Age

: 23


Location

: Chicago



Highlander Mummy!  So talented, and what a cutie he is!  He has a very smooth and sexy style on the sax, and he was really friendly at the meet and greet.
Of course I always miss my sweet Rah when he is not there, but Highlander did a great job filling in!
And I suspect he was wearing hand-me-down wraps from Cass . . . . . .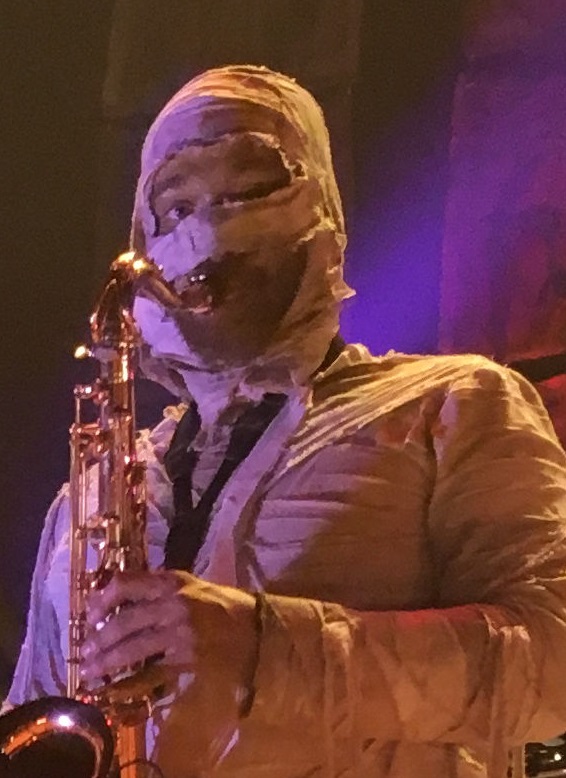 _________________
If I could change the world . . . .
How about a few videos from Ft Wayne? (Even though you rats quickly snapped the group pic before I walked up) Usual proviso: it's Phunky video. Some good, some bad, some funny. Lots of chatter. And an occasional boob or butt wanders into the frame...

Second half of Fenk Shui:



And Platinum:



A pretty good Peccadillo:



....and an encore of Ra Ra Ra:



Oh yeah.
Hi, Beck.

;-)
Thanks for those, Phunks.
[Aren't you glad I'm so short? 

  ]

_________________
If I could change the world . . . .
Yep. Your head was rarely ever in the way.

;-)



_________________
If I could change the world . . . .
I have other angles, you know.
Don't make me post a ginormous Mish head.


@IMJ

wrote:This guy came up and wanted a picture with me. Have no idea why.
I told you. It was the guitar.
;-)
At least you remembered I like to be on top.
And 'twas good to see you on your birthday weekend!
Page 2 of 2 •

1, 2

---
Permissions in this forum:
You
cannot
reply to topics in this forum